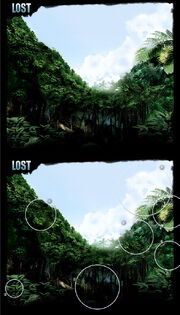 In association with Buena Vista Home Entertainment UK; promoting the launch of the second season of Lost on DVD, the viral http://www.whatislost.com website has been set up. Hidden within the main image are eight key items and faces from Lost.
On entering all the passwords, a deleted scene from the episode "Collision" is shown.
If The Numbers are entered, the hieroglyphs below the image flip over and reset to 108 00.
The video can also be found here
Hidden items and faces
Sun
Gun (or Pistol)
Horse
Jack
Locke
Sayid
Vincent
Others
Ad blocker interference detected!
Wikia is a free-to-use site that makes money from advertising. We have a modified experience for viewers using ad blockers

Wikia is not accessible if you've made further modifications. Remove the custom ad blocker rule(s) and the page will load as expected.