Publisher
G.P. Putnam's Sons
Valhalla Rising is a 2001 Clive Cussler book in the Dirk Pitt series (e.g. Sahara). Dirk Eric Pitt, the protagonist of the novels, is a renowned adventurer; a comparable blend of Indiana Jones, MacGyver, and James Bond.
In Valhalla Rising, Dirk is faced with the challenge of stopping the evil CEO of an American oil and natural gas company from establishing an absolute monopoly over oil resources and supplies. It features themes typical in a Dirk Pitt novel; a countdown, bribed officials, and ruthless, evil leaders.
Dirk also unravels the work of a brilliant, reclusive scientist who made great advances in oil technology. The scientists was also notable for finding the remnants of a Viking settlement on the Hudson River after tracing their history. Additionally, he discovered the remains of Captain Nemo's submarine, Nautilus, and improved its power system, a "magnetohydrodynamic" engine.
On Lost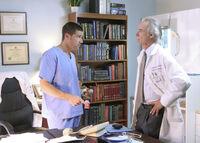 Jack's bookshelf can be seen in the background.
Valhalla Rising can be seen on the second-level of Jack's bookshelf during a conversation with his father. ("A Tale of Two Cities")
Valhalla Rising is also shown on the bookshelf of Ben's tent. ("Through the Looking Glass, Part 1")

Valhalla Rising and Lost are rife with references to the literary works of Jules Verne, specifically the book Mysterious Island.
Valhalla Rising and Lost incorporate names and ideals based on Greek Mythology. For example, the name Cerberus, the mythical three-headed beast who guards the Greek Underworld, appears on the Blast Door map. ("Lockdown") In Valhalla Rising, Cerberus is the name of the villain's corporation that acts as the antagonist to the plot.
Both also share themes of lost ocean voyages and ships that mysteriously disappear.

Trivia
See also
Ad blocker interference detected!
Wikia is a free-to-use site that makes money from advertising. We have a modified experience for viewers using ad blockers

Wikia is not accessible if you've made further modifications. Remove the custom ad blocker rule(s) and the page will load as expected.