LOST Fans, Since Ive seen the question raised before and I'm still seeing way too many blank Avatars. I figured I'd give a quick lesson. To create your very own LOST avatar, simply click on the "MORE"
button at the top right of the Wiki page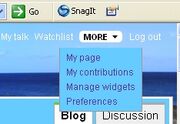 Next, Click on "Preferences" and scroll down to the "Avatar" section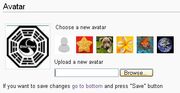 Then you can browse your pics for the perfect one. Best if you make your pic square before uploading it though.
Good luck