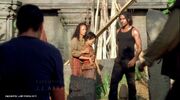 Okay, so in last night's episode, Lighthouse, I swear I saw at least 3 kids at the Temple, none of whom were Zach or Emma...so what's that all about? I thought people couldn't have kids on the Island? Or are the Others getting kids from some other source...like from the outside world? Did anyone else notice the kids?
EDIT: Here's a picture of the Asian child I'm talking about.
Ad blocker interference detected!
Wikia is a free-to-use site that makes money from advertising. We have a modified experience for viewers using ad blockers

Wikia is not accessible if you've made further modifications. Remove the custom ad blocker rule(s) and the page will load as expected.