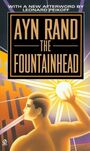 LOST Book Club -LBC
SPOILER NOTICE - YOU MAY WANT TO AVOID THIS BLOG UNTIL YOU HAVE FINISHED READING THIS BOOK
One of the first books to discuss with the LOST Book Club.
Please post your comments here, so we can keep this discussion all together.
Thanks! --Just Sayin' 19:58, July 19, 2010 (UTC)
LOST Reference
While noticably missing Kate, Sawyer is seen reading Ayn Rand's 1943 novel "The Fountainhead" in "Par Avion" S3/E12.
The title is a reference to Rand's statement that "man's ego is the fountainhead of human progress". Peter Keating in the book is in love with a woman called "Katie", Catherine Halsey.
Author
Ayn Rand was a Russian-American novelist, philosopher, playwright, and screenwriter.
Philosophy
Ayn Rand's philosophy is Objectivism. Below is her quote...
"My philosophy, in essence, is the concept of man as a heroic being, with his own happiness as the moral purpose of his life, with productive achievement as his noblest activity, and reason as his only absolute."
Main Characters
Part One: Peter Keating
Part Two: Ellesworth Toohey
Part Three: Gail Wynand
Part Four: Howard Roark
Dominque Francon
Discussion Points
When participating in the discussion, please provide specific examples in your comment. For example; A response of "Roark and Sawyer are similar" doesn't reveal much of why you think this is true. However, by responding, "Howard Roark is similar to Sawyer because they both separate themselves from the remainder of the group. Examples of Roark separating himself are.... We see Sawyer separating himself when... To make the discussion more interesting, feel free to include your own questions. Also, please be considerate of all points of view and encourage participation.
1. How is Rand's philosophy played out in The Fountainhead?
2. Do you see any connections with this philosophy in the story of L O S T?
3. Focusing on the five main characters in The Fountainhead, who are their counterparts in L O S T?
Discuss each characters' similarities and differences with each other and their L O S T counterparts.
--Just Sayin' JSTalk LBC LBCTalk eMail 15:00, July 30, 2010 (UTC)
Ad blocker interference detected!
Wikia is a free-to-use site that makes money from advertising. We have a modified experience for viewers using ad blockers

Wikia is not accessible if you've made further modifications. Remove the custom ad blocker rule(s) and the page will load as expected.