Top Ten Movies of 2009 In Terms of Revenue Collected
Watching movies are one great way to get entertained. Movies however are not just for entertainment but also considered the reflection of society we live in. Many different kinds of movies are made throughout the world everyday and hundreds and hundreds of movies are produced every year. Many great movies are made in the history, movies that are always entertaining, movies people would never forget or wouldn't get bored watching over and over again. However we are here going to discuss about some of the most successful movies of 2009 in terms of revenue they collected or say movies that earned the most profits.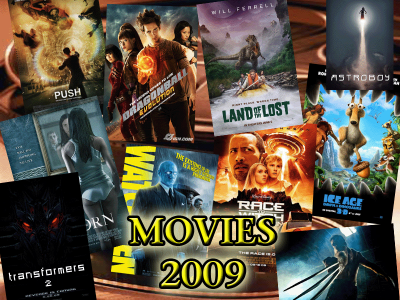 1. Avatar
Directed by James Cameron – the director of films like Titanic and Jurassic Park, Avatar is one of the best movies released in 2009. James Cameron with Avatar completely revolutionized the way of filmmaking. It is the first movies to seamlessly integrate 3D effects into every scene. With actor cast of Sigourney Weaver, Zoe Saldana, Michelle Rodriguez, Giovanni Ribisi, Sam Worthington and Stephen Lang; Avatar collected around $759.563 million.
2. Transformers: Revenge of the Fallen
Following the success of Transformers, its sequel Transformers 2 also proved to be very successful with US Box Office collection of $402.1 million. In the movie starring Shia LaBeouf, Autobots loses all hope to return to their home palnet of Cybertron with the destruction of Allspark and thus begin working together with elite military known as NEST to fight for humanity.
3. Harry Potter and The Half-Blood Prince
Produced and distributed by Warner Brothers, Harry Potter and The Half-Blood Prince is another successful sequel originated from the writings of author J.K. Rowling. Starring same star cast Daniel Radcliff, Rupert Grint, Emma Watson, Helena Bonham Carter and Alan Rickman Harry Potter and the Half-Blood Prince successfully collected over $301.95 million in US Box Office.
4. The Twilight Saga: New Moon
Starring actors like Kristen Stewart, Robert Pattinson, Taylor Lautner, Peter Facinelli, Nikki Reed and directed by Chris Weitz, 'The Twilight Saga: New Moon' collected over $293.81 million in the US Box Office. The movie revolves around protecting Bella (Kristen Stewart) from evil vampires as she finds outs vampires aren't the only creatures in town.
5. UP
The movie UP is an action & adventure animation comedy movie. Directed by Pete Doctor and Bob Peterson, the movie UP about the desire of a 78 years old balloon salesman named Carl Fredricksen to explore the wilds of South America. This animated movie was a huge success and was able to collect over $293 million in US Box Office.
6. The Hangover
The Warner Bros Pictures production, The Hangover is a comedy movie directed by Todd Phillips. The Hangover is a movie about four friends played by Bradley Cooper, Ed Helms, Zach Galifianakis, and Heather Graham who is out to celebrate a blowout Las Vegas bachelor party, awaken only to find out the groom – one of them is missing. This hilarious movie was very successful in the US box office that collected $277.30 million and definitely a must see movie of this remarkable top ten list.
7. Star Trek
Star Trek is the resurrection of the classic science fiction television and film series. Paramount Picture production, 'Star Trek' was directed by the director of famous movies like Mission Impossible III and Alias, J.J. Abrams and was equally successful as it was in the television with US box office collection $257.77 million.
8. The Blind Side
Directed by John Lee Hancock and starring veteran actor Sandra Bullock, The Blind Side is a drama and comedy movie. The movie is about a homeless teen who finds a second chance in life in a well-to-do family to become the star athlete. The Blind Side is one of the successful productions of Warner Bros Pictures that collected over $255.94 million in the US box office.
9. Alvin and the Chipmunks: The Squeakquel
Director Betty Thomas yet again introduced us with Alvin, Simon and Theodore in another computer animation comedy movie Alvin and the Chipmunks: The Squeakquel. This is the sequel of original 'Alvin And The Chipmunks' where the already famous singing trio return to contend with the newly formed rival female music group known as The Chipettes only to realize that they have to everything they have got to win the competition. The movie is an instant hit in the US box office and collected over $219.60 million.
10. Sherlock Holmes
The world renowned detective from the novel now has come into movie 'Sherlock Holmes'. The credit to bring this famous detective into movies goes to the famous filmmaker Guy Ritchie. Sherlock Holmes is the combined production of Warner Bros. Pictures and Village Roadshow Pictures. With Robert Downey Jr. playing legendary detective Sherlock Holmes and Jude Law playing Holmes' reliable Mr. Watson the movie is able to fetch around $208.97 million in the US box office.
Ad blocker interference detected!
Wikia is a free-to-use site that makes money from advertising. We have a modified experience for viewers using ad blockers

Wikia is not accessible if you've made further modifications. Remove the custom ad blocker rule(s) and the page will load as expected.