I'm just posting this article here because I think it's hilarious, but I also think it will be deleted:
Box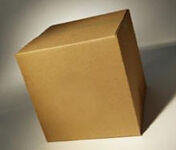 Box promo shot for season one
Statistics
Name
Box
Status
Inanimate object
Date of Birth
Unknown
Place of origin
A box factory
Profession
A box
Connection
In many episodes
Portrayed by
Matthew Box
A mysterious box appears everywhere in LOST. The box is box-like in shape, size, color, taste and smell. It even sounds like a box. In fact, this box is such a box that box-stores across North America, Europe, and North-West Luxembourg have sold out of boxes. It may even contain something.
General Information
Boxes are highly variable receptacles. When no shape is described, a typical rectangular box may be expected. Nevertheless, a box may have a horizontal cross-section that is square, elongated, round or oval; sloped or domed top surfaces, or non-vertical sides. A box normally may be opened by raising, sliding or removing the lid, which may be hinged and/or fastened by a catch, clasp, or lock. Whatever its shape or purpose or the material of which it is fashioned, it is the direct descendant of the chest, one of the most ancient articles of domestic furniture. Its uses are innumerable, and the name, preceded by a qualifying adjective, has been given to many objects of artistic or antiquarian interest. The word 'box' is also slang for the female genitalia, due to its hollow nature.
Boxes have a prominent role in the Metal Gear Solid video-game series, where in the protagonist utilizes boxes as an espionage device to sneak past his enemies.
Source: Wikipedia
In Flashback
"D.O.C." revealed that the Kwon family had "lots of boxes". These are likely prototypes made by Paik Heavy Industries for the magic box found on the island.

Theories
Identity Theories
There are many numerical links between LOST and boxes;
If the three letters of box were turned into numbers, (B=2, O=15 and X=24) 2 is pretty close to 4, O would be 15 (which IS one of the numbers) and 24 is darn close to 23. Add them all up and what do you get? 41! That's almost 42!
The sum of the numbers is 108, if you reverse this number (801) and replace the 1 with and x, you get 80X, which looks like BOX, so something is definately going on there.
The box is the REAL reason that Flight 815 crashed.
The box is actually the Flight 815 black box, and is caught in a time vortex.
The box IS Flight 815.
The box is the magic box, or a prototype of it.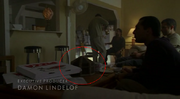 The island is inside the box.

God cannot see the contents within the box because of the uniquely opaque quality of the cardboard used (the box is probably corrugated).

The box is DHARMA Initiative Station 7 of 6.

The box has QUARANTINE written on the inside of it.

The box is a clue to the Island's real location - BOX is the 3 letter code for the airport in Borroloola, Australia. [1]
The box is behind the concrete barrier in the Swan and responsible for the magnetic phenomena on the Island.
Miscellaneous Theories
Unlikely Theories
Some have claimed the BOX is just a reused prop.
External Links
Parody Alert!
This article's subject matter is parodical and non-canon in nature (but distinct from hoax and serious fanon material)
This material is generally fan-created, but occasionally from official or commercial sources.
Ad blocker interference detected!
Wikia is a free-to-use site that makes money from advertising. We have a modified experience for viewers using ad blockers

Wikia is not accessible if you've made further modifications. Remove the custom ad blocker rule(s) and the page will load as expected.