And now it's time for the Jacob Pick of the Week!
("Jacob Pick of the Week" is meant only as a humorous parody. By taking this blog post seriously and/or attempting to engage in a debate over its contents, you accept full responsibility of me thinking you're an idiot.)
For this week's Jacob Pick of the Week, I've chosen...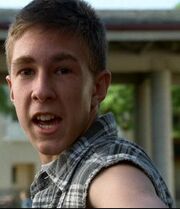 Meathead -- the schoolyard bully who beat up young Jack!
Jacob chose Jack's destiny on the Island at a young age. By forcing young Jack to watch his best friend, Marc Silverman, get beat up by another bully, Jacob instills in Jack his trademark intense desire to rescue other people, no matter the cost or the futility. He punches Jack in the face as soon as Jack gets up to try to rescue Marc. Later that day, Jack's father, Christian Shephard, already speaking on Jacob's behalf as he does many years later on the Island, tells Jack not to try to be a hero because he "doesn't have what it takes". This, of course, works as reverse-psychology on Jack, as we see that Jack as an adult does always try to be the hero among the survivors, just as the Island needs him to in order to fulfill his purpose.
So, congratulations, Meathead! For starting Jack on his long-standing trend of stubborn heroics, you are the Jacob Pick of the Week!
Ad blocker interference detected!
Wikia is a free-to-use site that makes money from advertising. We have a modified experience for viewers using ad blockers

Wikia is not accessible if you've made further modifications. Remove the custom ad blocker rule(s) and the page will load as expected.