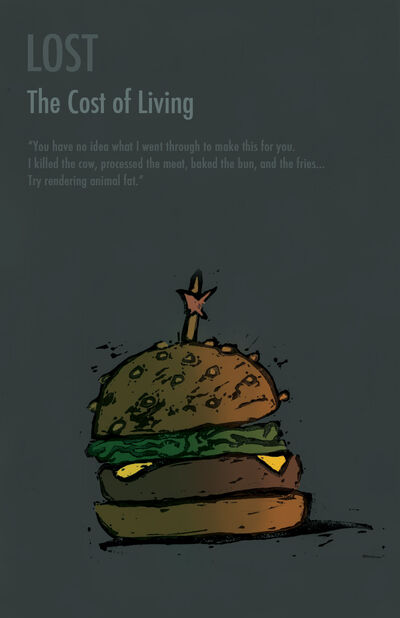 The Cost of Living
The Cost of Living

---

See main article: "

The Cost of Living

" (Transcript)

Episode number: 05

Original air date: November 1, 2006

Flashback: Mr. Eko

Written by: Alison Schapker and Monica Owusu-Breen

Directed by: Jack Bender

Plot: A delirious Eko wrestles with demons from his past, while Locke and some of the other castaways head back to The Pearl -- one of the DHARMA Initiative's island stations -- hoping to find a computer that they can use to locate Jack, Kate and Sawyer. Meanwhile, Jack doesn't know whom to trust when two of "The Others" seem at odds with one another.

Guest starring: Michael Bowen as Pickett, Adetokumboh M'Cormack as Yemi, Muna Otaru as Amina, Hakeem Kae-Kazim as Emeka, Jermaine "Scooter" Smith as Daniel, Michael Robinson as Trader, Ariston Green as Jason, Lawrence Jones as Soldier, Alicia Young as Blind woman, Aisha Hinds as Nun, François Chau as Mark Wickmund and Andrew Divoff as man on monitor.
If this episode is on this week's list and you cannot post comments, contact BalkOfFame
This week's discussions:
Posters: Gideon's Life
Ad blocker interference detected!
Wikia is a free-to-use site that makes money from advertising. We have a modified experience for viewers using ad blockers

Wikia is not accessible if you've made further modifications. Remove the custom ad blocker rule(s) and the page will load as expected.