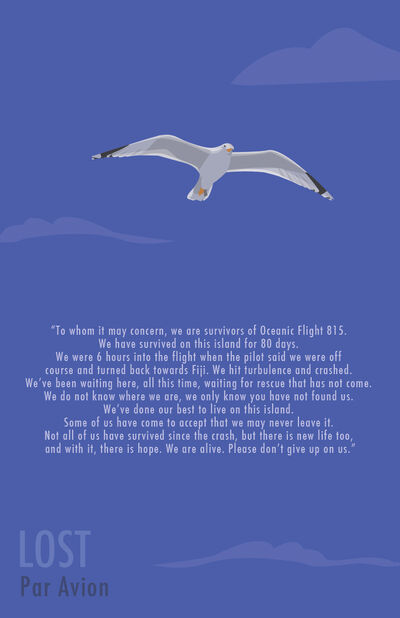 Par Avion
Par Avion

---

See main article: "

Par Avion

" (Transcript)

Episode number: 12

Original air date: March 14, 2007

Flashback: Claire Littleton

Written by: Christina M. Kim and Jordan Rosenberg

Directed by: Paul Edwards

Plot: Claire becomes suspicious of Charlie when he exhibits peculiar behavior after she comes up with an idea that could get everybody rescued. Meanwhile, tensions mount between Sayid and Locke as they continue their trek to rescue Jack.

Guest starring: John Terry as Christian Shephard, M.C. Gainey as Mr. Friendly/Tom, Mira Furlan as Danielle Rousseau, Andrew Divoff as Mikhail, Gabrielle Fitzpatrick as Lindsey, Julian Barnes as Dr. Woodruff, Rhett Giles as Officer Barnes, Danan Pere as ER doctor, Anne Elizabeth Logan as head nurse and John Medlen as man at crash site.
If this episode is on this week's list and you cannot post comments, contact BalkOfFame
This week's discussions:
Posters: Gideon's Life
Ad blocker interference detected!
Wikia is a free-to-use site that makes money from advertising. We have a modified experience for viewers using ad blockers

Wikia is not accessible if you've made further modifications. Remove the custom ad blocker rule(s) and the page will load as expected.