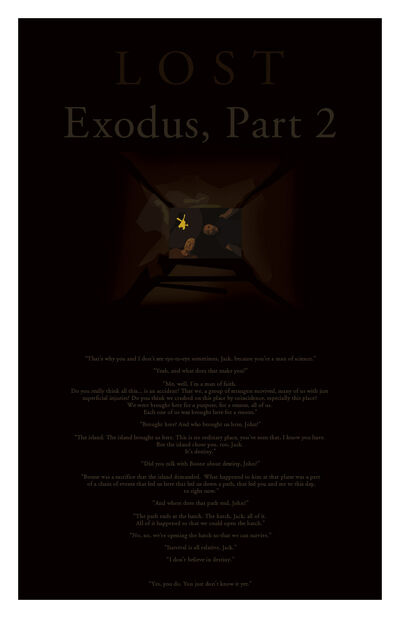 Exodus, Part 2
Exodus, Parts 2 & 3

---

See main article: "Exodus, Parts 2 & 3" (Transcript)

Episode number: 24-25

Original air date: May 25, 2005.

Flashback: Jin-Soo Kwon, Charlie Pace, Michael Dawson, Hugo "Hurley" Reyes and John Locke

Written by: Damon Lindelof and Carlton Cuse

Directed by: Jack Bender

Plot: As the castaways brace themselves for an attack, Claire's baby is kidnapped, leading Charlie and Sayid on a dangerous chase into the jungle. While the threat of the Others bears down on the castaways, the raft crew continues their flight from the island - but when the hope of rescue appears on the horizon, they will soon learn that appearances can be deceiving. Charlie and Sayid stumble into a trap as they race to confront the kidnapper. Jack and Locke argue as they prepare to blow open the hatch. The raft crew is overjoyed to be dicrovered by a passing ship, but their elation is short-lived when they realise things are not what they appear. The hatch is opened, and what is inside it stuns the survivors.

Guest starring: Mira Furlan as Danielle Rousseau, Fredric Lehne as Marshal Edward Mars, Daniel Roebuck as Leslie Arzt, M.C. Gainey as Bearded Man, John Walcutt as Hawaiian Shirt, Robert Frederick as Jeff, Wendy Braun as Gina, Mark "Ruz" Rusden as Airport Cop, Suzanne Turner as Oceanic Ticket Agent, Mary Ann Teheny as Jenna, Michelle Arthur as Michelle, Jon Dixon as JD, Terasa Livingstone as Lily, Glenn Cannon as Old Scooter Man, and Mark "Kiwi" Kalaugher as Security Agent.
If this episode is on this week's list and you cannot post comments, contact BalkOfFame
This week's discussions:
Posters: Gideon's Life