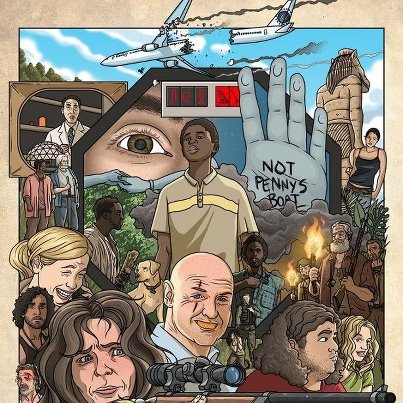 I am UnleashThePower. The first episode of LOST I watched was LA X Parts 1 and 2 the day after it aired. I started watching it because I didn't have anything else to watch, so I decided to watch the series from the beginning. So I started to watch season 1 and season 6 at the same time, and then the series ended but I continued to watch season 1. (This may be why I have a better appreciation for season 6 than most people have. This also spoiled some parts of seasons 1-5 like Jacob's death and Charlie's and some other stuff) The first episode that really made my jaw drop was "Ab Aeterno." It is still one of my favorite episodes from the show because it got me really hooked and it felt like a movie.
Then I stopped watching, and about a year and a half later I started watching from where I left off near the end of season 1. It took me a few months but I just finished the whole show (including another watch through season 6 with my new found knowledge) near the end of April 2012. Now I am starting to analyze it and think over the show and come up with some ideas and theories and maybe start re-watching it this summer.
I enjoyed LOST a lot. It is my favorite television show and unlike anything that has ever been on television. I now compare all other shows to LOST because it set the bar for TV programs, and I don't believe another show will ever be able to catch the appeal and magic of the show.
The reason why I enjoy LOST show much is probably because before I started my full watch through I had a few ideas already about the show. From what I heard of it I thought that it was just a show about some people romping through the jungle and some of them occasionally getting eaten by a smoke cloud. Boy was I wrong. Than I watched the show and it blew my mind, with likeable characters, great plot and story arcs, engrossing mysteries, and complicated timelines that all fit together in the end. No show will be able to capture the magic of LOST and captivate the audience like it did, but it is an incredible show that I will have to try move on from, no matter how hard it is for me. (Like with Chuck)
Top Seasons: 4,5,1,3,2,6
Top 5 Characters Overall: 1. Locke, 2. Ben, 3. Desmond, 4. Sawyer, 5. Jack
Top Season 1 Character: Locke
Top Season 2 Character: Mr. Eko
Top Season 3 Character: Desmond
Top Season 4 Character: Ben
Top Season 5 Character: Sawyer
Top Season 6 Character: Jack
Top 5 Episodes Overall: 1. The Constant, 2. Through the Looking Glass, 3. Pilot, 4. Ab Aeterno, 5. The Life and Death of Jeremy Bentham
Top 5 Season 1 Episodes: 1. Pilot, 2. Exodus, 3. Walkabout, 4. Dues Ex Machina, 5. Special
Top 5 Season 2 Episodes: 1. Live Together, Die Alone, 2. The Other 48 Days, 3. Man of Science, Man of Faith, 4. Three Minutes, 5. Fire + Water
Top 5 Season 3 Episodes: 1. Through the Looking Glass, 2. The Man from Tallahassee, 3. Greatest Hits, 4. Flashes Before Your Eyes, 5. The Man Behind the Curtain
Top 5 Season 4 Episodes: 1. The Constant, 2. There's No Place Like Home, 3. Meet Kevin Johnson, 4. The Shape of Things to Come, 5. Confirmed Dead
Top 5 Season 5 Episodes: 1. The Life and Death of Jeremy Bentham, 2. Jughead, 3. The Incident, 4. Dead Is Dead, 5. LaFleur
Top 5 Season 6 Episdoes: 1. Ab Aeterno, 2. The End, 3. LA X, 4. Happily Ever After, 5. Across the Sea
My favorite pages
Edit
Add links to your favorite pages on the wiki here!
Favorite page #2
Favorite page #3