Fan of Lost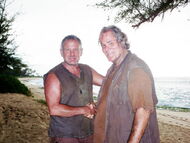 My username: Fan of Lost
My date of birth: June, 27th in 2008
City where I live: Nice, Alpes Maritimes (France)
A sentence from...: « It's a place where miracles happen »
Languages spoken: English, Español, French
Hello, I'm a french boy born in 2008 because of the DHARMA Initiative. Il left the Island with Charlotte in 1990, after a time-travel. Now I live in Nice, far away from The Degroots. I hope I will help Lostpedia. I am an administrator on FR-LOSTpédia. If you have any question for me, about the french wiki or something else, please contact me !
If you want to chat, here is my MSN : lostmapassion@hotmail.fr
Theories
If you want to talk about LOST, mysteries, characters, or anything else, please let a message on my talk page, I'll enjoy answering.