TheBlackRock.org is a feature-rich Lost community website. The site is partnered with The Black Rock Podcast to offer fans greater interactivity.
Website features
In addition to the usual news and forums TheBlackRock.org has a coppermine driven set of media features.
Lost Characters displays of all of the characters to see who has died or is missing. Mousing over the image will provide a pop-up with background and brief facts about that character.
Similarly, the Lost Mysteries section has images of each of the shows mysteries and clicking on them will show information on what is known to date.
Lost for Dummies is a way to get up-to-speed on the previous season of lost in the simplest terms possible.
Black Rock Podcast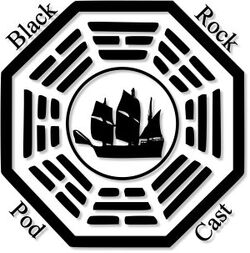 The Black Rock
"More theories and less rehash"
Background
The The Black Rock Podcast is a weekly show that focuses on the evolving mythology and tries to advance and explore the theories surrounding it. Described as 'an intelligent discussion without going off on tangents'.
Hosts and guests
Black Rock was originally hosted by Curtis Yanko
Dan Ramos joined the team once we committed to sticking with the show
Listeners
Black Rock statistics are hard to piece together as Spymac doesn't provide file level stats. According to their Stat Counter map, they have listeners in at least 22 countries from around world. During the final weeks of season and shortly after joining the Lost Podcasting Network the Podcast page was averaging nearly 600 visitors a week. The addition of our MP3 addition on the Lost Podcasting Network bring in another 1,200 listeners per episode. This doesn't include iTunes listeners, as Spymac currently doesn't allow collection of those statistics. (RSS pings)
External Links
Ad blocker interference detected!
Wikia is a free-to-use site that makes money from advertising. We have a modified experience for viewers using ad blockers

Wikia is not accessible if you've made further modifications. Remove the custom ad blocker rule(s) and the page will load as expected.