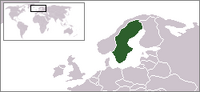 Broadcasted by: TV4
Tuesdays at 10:40 pm CET (GMT + 01:00)
Subtitled
As of April 2009 Swedish broadcasts lag 8 episodes (roughly 1/2 season) behind the original US/Canadian release.
In contrast, during season 2 Sweden was only one episode behind American ABC broadcasts. TV4 then showed the episode "Maternity Leave" (season 2, episode 15), while ABC showed the episode "The Whole Truth" (season 2, episode 16).
External links
Ad blocker interference detected!
Wikia is a free-to-use site that makes money from advertising. We have a modified experience for viewers using ad blockers

Wikia is not accessible if you've made further modifications. Remove the custom ad blocker rule(s) and the page will load as expected.