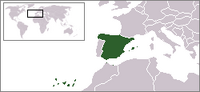 Spain on the map

Spain flag
In Spain the series name was translated as PERDIDOS ("Lost Ones").
General
Broadcasted by: FOX (pay-tv), Cuatro, Sony Entertainment Television (SET)
Time:
FOX begun Season 4 on April 24th 2008, and finished it on July 31st. Season 5 will start on May 7th 2009.
Cuatro bought the rights of the full series (previously owned by TVE) for public television, and is expected to start with Season One soon.
SET begun running from the first episode April 28, 2007; every Saturday, two episodes, at 20:30h.
Language: Spanish
Spain in Lost
See also
External links
Video
TVE2's Spanish Season 3 trailer (taken from ABC)
Ad blocker interference detected!
Wikia is a free-to-use site that makes money from advertising. We have a modified experience for viewers using ad blockers

Wikia is not accessible if you've made further modifications. Remove the custom ad blocker rule(s) and the page will load as expected.