"South Korea" redirects here. For locations and characters from South Korea in Lost, see South Korea in Lost.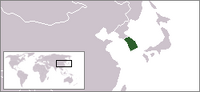 Location of South Korea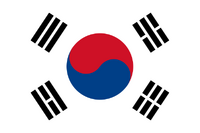 Flag of South Korea
Episode names
Season 1
Season 2
Season 3
Season 4
Season 5
2시즌 스페셜 에피소드 – 예기치 못한 생존 (revelation) ("Season 2 Special Episode - Unexpected Existence (revelation)") – "

Lost: Revelation

"
2시즌 스페셜 에피소드 – 숙명의 섬 ("Season 2 Special Episode - Island of Fate") – "

Lost: Reckoning

"
Voice actors
The broadcast of Lost in South Korea is dubbed, with dubbers being identified by the Korean word 役.
Korean transliteration
Characters
Note: The version in English represents what is shown in Korean. i.e. If both first and last names are listed, or a nickname is listed, these are also in the Korean version to the right
Cast and crew
Trivia
External links
Ad blocker interference detected!
Wikia is a free-to-use site that makes money from advertising. We have a modified experience for viewers using ad blockers

Wikia is not accessible if you've made further modifications. Remove the custom ad blocker rule(s) and the page will load as expected.