Ad blocker interference detected!
Wikia is a free-to-use site that makes money from advertising. We have a modified experience for viewers using ad blockers

Wikia is not accessible if you've made further modifications. Remove the custom ad blocker rule(s) and the page will load as expected.

Slovenia Location
Showtitle: Skrivnostni Otok (English: Mysterious island)
Broadcast: POP TV
When: every Monday, 22:40 o'clock
Dubbed: No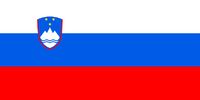 Slovenia Flag

Subtitled: Yes
Season 1 Airdate: September 12th, 2005
Season 2 Airdate: September 4th, 2006
External links
This article is a location stub
This location-related article is short and lacking information. You can help Lostpedia by expanding it.