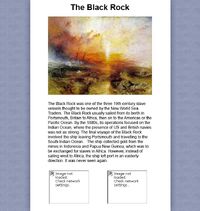 The site as of Jan. 10th, 2008.
As of January 9th, 2008, the url www.slaveshipsearch.com has been updated in the real-world to show the information Sam was looking at in the ARG Find 815. www.slaveshipsearch.com is hosted at 815.com. It has only a single page with a painting of The Black Rock, a brief description and two broken images.
| | | |
| --- | --- | --- |
| " | The Black Rock was one of the three 19th century slave vessels thought to be owned by the New World Sea Traders. The Black Rock usually sailed from its berth in Portsmouth, Britain to Africa, then on to the Americas or the Pacific Ocean. By the 1880s, its operations focused on the Indian Ocean, where the presence of US and British navies was not as strong. The final voyage of the Black Rock involved the ship leaving Portsmouth and travelling to the South Indian Ocean. The ship collected gold from the mines in Indonesia and Papua New Guinea, which was to be exchanged for slaves in Africa. However, instead of sailing west to Africa, the ship left port in an easterly direction. It was never seen again. | " |
A larger version of the painting and detailed description is available at http://wikipedia.org/wiki/The_Slave_Ship_(painting).
Ad blocker interference detected!
Wikia is a free-to-use site that makes money from advertising. We have a modified experience for viewers using ad blockers

Wikia is not accessible if you've made further modifications. Remove the custom ad blocker rule(s) and the page will load as expected.