Ad blocker interference detected!
Wikia is a free-to-use site that makes money from advertising. We have a modified experience for viewers using ad blockers

Wikia is not accessible if you've made further modifications. Remove the custom ad blocker rule(s) and the page will load as expected.
Fanon
(Fan created content. Distinct from hoaxes and parodies)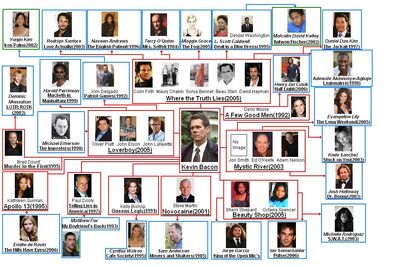 Main cast of seasons' 1-3 degrees of Kevin Bacon.
The game Six Degrees of Kevin Bacon is based on the stipulation that every working actor can be connected to Kevin Bacon to within six degrees by the other actors they've appeared in films and television shows with. Every one of the main cast members of Lost can be connected to Kevin Bacon by either 2 or 3 degrees, although none of them has worked with him directly.
Below are single examples for each Lost cast members; however, many actors have other lines of connection by the same number of degrees. Where there are multiple number of degrees for a single character, the smallest connection is used.
Lost main cast
Lost recurring cast
Mira Furlan (Danielle) is separated from Kevin Bacon by 2 degrees, having appeared in Braca Po Materi (1988) with Goran Visnjic, who appeared in New York, I Love You (2008) with Kevin Bacon.
M.C. Gainey (Tom) is separated from Kevin Bacon by 2 degrees, having appeared in The TV Set (2006) with Kathryn Joosten, who appeared in Rails & Ties (2007) with Kevin Bacon
Tania Raymonde (Alex) is separated from Kevin Bacon by 2 degrees, having appeared in Still Waiting... (2008) with Michelle Shaffer, who appeared in Beauty Shop (2005) with Kevin Bacon
See Also
External Link