A set of scales stood in entrance of the cliffside cave that held the candidates' names. Before Sawyer and the Man in Black's visit in "The Substitute", two rocks, one black and one white, roughly balanced the scales. The Man in Black then threw the white rock in the ocean, tilting them in the remaining black rock's favor. He referred to this as an "inside joke".
Jacob and the Man in Black used to play senet using black and white rocks when they were children, and they returned to the game throughout adulthood. During their centuries of rivalry following the Man in Black's transformation, they traded stones to symbolically keep score. Jacob sent his brother a white stone in 1867 after thwarting an attempt on his life and recruiting Richard. The Man in Black, later seen with the stone, commented on Jacob's "gloating". ("Ab Aeterno")
Trivia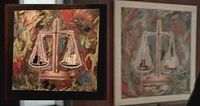 The paintings seen in Charles Widmore's office in a flash sideways
Ad blocker interference detected!
Wikia is a free-to-use site that makes money from advertising. We have a modified experience for viewers using ad blockers

Wikia is not accessible if you've made further modifications. Remove the custom ad blocker rule(s) and the page will load as expected.