Ad blocker interference detected!
Wikia is a free-to-use site that makes money from advertising. We have a modified experience for viewers using ad blockers

Wikia is not accessible if you've made further modifications. Remove the custom ad blocker rule(s) and the page will load as expected.
Fanon
(Fan created content. Distinct from hoaxes and parodies)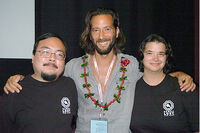 Ryan (left) and Jen (right) Ozawa, wearing Hawaii Lost Fan Club shirts, with Henry Ian Cusick (center), at the 2006 Louis Vuitton Hawaii Film Festival Lost Panel
Ryan Ozawa is a Hawaii resident and Lost fan who is best known for his podcast "The Transmission," which he produces with his wife, Jen Ozawa. At its most popular, The Transmission reached number 7 on the iTunes top 10 list, joining more established major podcasts such as those from ESPN, CBS and NPR. On an early episode, Lost cast member Jorge Garcia called into the podcast show.
Background
The Transmission podcast
Aliases
Content from Ozawa related to Lost may be found at the following resources:
Personal Life
Ozawa and his wife have three children, Katie (14), Zac (9), and Alex (7). All three have made appearances in various podcast episodes. The most being their daughter, who read out the dates and episode numbers for the podcast.
Hawaii Lost Fan Club
Ozawa also runs the Hawaii Lost Fan Club, which includes a mailing list hosted at Yahoo Groups.
Leaks and spoilers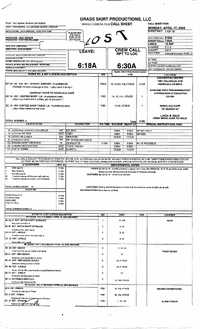 Season 2 call sheet spoiler from Ozawa
Ozawa is the source of several filming reports and spoilers:
See also
External links