Real World article
(written from a Production point of view)
Roxann Dawson
Date of Birth
September 11, 1958 (age 59)
 
Origin
Los Angeles, California
 
Job(s)
Director
 
IMDb profile

Roxann Dawson directed "The Long Con".
Outside of Lost she is best known for her portrayal of B'Elanna Torres in Star Trek: Voyager. She also directed several episodes across the Star Trek franchise.
She currently is a producer of the CBS show Cold Case.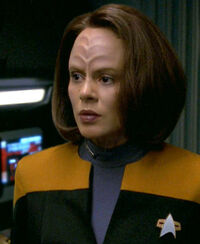 Roxann Dawson as B'Elanna Torres of Star Trek: Voyager
This article is a stub
This crew-related article is short and lacking information. You can help Lostpedia by expanding it.
Ad blocker interference detected!
Wikia is a free-to-use site that makes money from advertising. We have a modified experience for viewers using ad blockers

Wikia is not accessible if you've made further modifications. Remove the custom ad blocker rule(s) and the page will load as expected.