| | | |
| --- | --- | --- |
| | Lostpedia has conducted an interview with Raj K. Bose. To read this interview, please see here. | |
Real World article
(written from a Production point of view)
Raj K. Bose

Raj K. Bose
Character(s)
Mohamad
 
Date of Birth
December 30, 1960 (age 56)
 
Origin
Kolkata, India
 
IMDb profile

Raj K. Bose played Mohamad, a shop clerk who sold Hurley his lottery ticket and later appeared in his dream wearing a chicken suit.
Background and Personal Life
Since 2002, Bose has been teaching a Marketing class at the University of Phoenix. This job was responsible for him being unable to get the part of Sanjay on Lost. (The Lostpedia Interview:Raj K. Bose)
Career
On Lost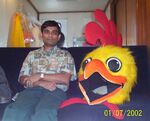 Raj Bose on set with the chicken head to his costume.
Bose had previously auditioned to play Sanjay, and got the part. However, he was forced to pull out due to a scheduling conflict. However, he later got the part of Mohamad. (The Lostpedia Interview:Raj K. Bose) This was Bose's only role to date in a TV show or film.
Ad blocker interference detected!
Wikia is a free-to-use site that makes money from advertising. We have a modified experience for viewers using ad blockers

Wikia is not accessible if you've made further modifications. Remove the custom ad blocker rule(s) and the page will load as expected.