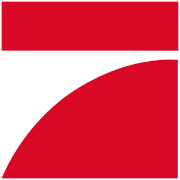 ProSieben (sometimes Pro7) is the television station that airs Lost on German Free-TV. ProSieben is part of ProSiebenSat.1 Media, a European media conglomerate, operating commercial television, premium pay channels, radio stations and related print businesses.
Their motto is "We love to entertain you." Media stars, some German and many American (e.g. Tom Cruise, and cast members of such shows as Lost, Desperate Housewives, etc.) say the motto as part of the station's campaign, these promos being shown as lead-ins to programs.
ProSieben is also the original producer of the gaming show Schlag den Raab (english: Beat the Raab). The show has been sold as Beat Your Host, rather Beat the Star to more than 16 countries worldwide.
Programs
ProSieben airs many American TV shows, like:
Alias (Alias - Die Agentin)
Aliens in America
Cold Case
Desperate Housewives
Eli Stone
Emergency Room (Emergency Room – Die Notaufnahme)
Eureka (EUReKA - Die geheime Stadt)
Everybody Hates Chris (Alle hassen Chris)
Family Guy
Friends
Fringe (Fringe - Grenzfälle des FBI)
Futurama
Grey's Anatomy (Grey's Anatomy – Die jungen Ärzte)
Grounded for Life (Keine Gnade für Dad)
How I Met Your Mother
Malcolm in the Middle (Malcolm mittendrin)
Moonlight
My Wife and Kids (What's Up, Dad?)
Nip/ Tuck
Private Practice
Pushing Daisies
Queer as Folk
Roseanne
Sabrina, the Teenage Witch (Sabrina – total verhext!)
Samantha Who?
Scrubs (Scrubs – Die Anfänger)
Seinfeld
Supernatural
The Shield
The Simpsons (Die Simpsons)
The X-Files (Akte X)
Two and a Half Men
24 (Season 6)
Surface
Weeds
We Love to Entertain You
Josh Holloway
Evangeline Lilly
Dominic Monaghan
Harold Perrineau
Ian Somerhalder
Pro7 Lost Clips
Season 1 Recap
Season 4 Trailer
See also
External links
Ad blocker interference detected!
Wikia is a free-to-use site that makes money from advertising. We have a modified experience for viewers using ad blockers

Wikia is not accessible if you've made further modifications. Remove the custom ad blocker rule(s) and the page will load as expected.