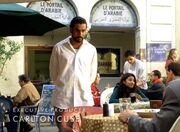 Le Portail d'Arabie is the restaurant where Sayid worked at as a chef with his waiter friend in Paris, France before being imprisoned by Sami. He worked there under the assumed named of Najeev/Najiv. Le Portail d'Arabie is French for 'The Gate of Arabia'. ("Enter 77") The name of the restaurant is visible on the logo on the building.
Ad blocker interference detected!
Wikia is a free-to-use site that makes money from advertising. We have a modified experience for viewers using ad blockers

Wikia is not accessible if you've made further modifications. Remove the custom ad blocker rule(s) and the page will load as expected.