Talk:Pilot, Part 1/Archive 1
7,291pages on
this wiki
Dates
Would it be possible to put all of the actual dates on the episode template that they take place on, such as for Pilot Part 1:
Dates Taking Place: Wed, September 22, 2004 - Thurs, September 23, 2004
Please try to be civil. 1.618033989 11:48, 12 September 2006 (PDT)
Actually, even though this is old news, i think it's a pretty nice idea. Helps with quick-think about the timing with real world events, i.e. the Red Sox winning the World Series.—The preceding unsigned comment was added by Notaredherring (talk • contribs) .
Rewrite, images
I'm aware there's far too many images here. Didn't think there'd be that many :) Once I'm done arranging them throughout the synopsis (that's after I've rewritten it and expanded upon it), I'll mark any unneccessary ones for deletion. -Chris[dt7] 13:58, 9 October 2006 (PDT)

When you re-write the images, maybe you could get a screen capture of the mysterious black shape that swoops down out of the sky just as the engine explodes? I know the Produceers have said that the monster does not make an "on-screen" appearance in the first episode but maybe something else does? It seems too linear a dive to be just a special effects mistake! CJDTrismegistus
Added a link to the relevant article : Turbine Explosion
help
Hey guys, i wanna ask you about the templates here first with the table on the top, and after the episode template, can you told me how you do this because i am new in the wiki area, i read the help files but i can't understand nothing
Water
Having watched the pilot episode several times, I continuously notice a stream of water shoot upwards towards the tip of the wing in an early shot after Jack emerges from the jungle. Can anyone explain this - Marcusjh
I believe this is high velocity jet exhaust, which makes sense since the engines are still running. I'm not an expert, though.--e. magill 02:27, 7 March 2007 (PST)
Flashlight (Black Cylinder)
In the very first sequence of shots, you can see something on the ground right over Jack's shoulder when he's still lying on the ground. When the camera is pointing down at him, you can see it on the upper-right of the screen. It's a small black cylinder that looks like a flashlight. Can anybody identify this? - Emagill
Do you have a screenshot of this? Some of us are at work and don't have their DVDs on them :D --

 Plkrtn 

 talk 

 contribs 

 email 

02:17, 7 March 2007 (PST)

Yeah, here - Screenshot from Lost Media ...It's more obvious in motion, but you can still see it, right over Jack's shoulder. --e. magill 02:33, 7 March 2007 (PST)

I whipped out the DVD and watched that part. Sure enough, the black cylinder is there. Looks like a production error to me. Evil-pineapples 08:46, 22 April 2007 (PDT)

When I heard about the cylinder, I was told it was Ben's beating stick thing. Either way, doesn't help much with figuring out what its doing there...EarthBoundX5 04:14, 12 January 2009 (CST)
Flashback?
Shoulod the flashback for this episode be changed to Various? Or at least a list of characters who had a flashback in this ep? I think we see Charlie and Kate on the plane in this ep.--Baker1000 04:36, 25 April 2007 (PDT)
We may or may not see other characters in people's flashbacks. Ana Lucia was in one of Jack's flashbacks as well. The flashbacks are labeled as who they are primarily focused on.

 Live

weak 

19:52, 3 January 2008 (PST)

I think what's being referred to is Charlie and Kate also getting flashbacks, but that's in Pilot, Part 2. Easy mistake to make. --

Crash815

Talk

14:30, 3 June 2009 (UTC)
Brown shadow
What's that brown shadow that appears a moment before this?. Regards, Ffahm 11:54, 4 May 2007 (PDT)
Shoes?
What about those white shoes in the jungle as Jack runs toward the beach? The camera zooms in on them for a second or two like they have some importance. Also I think I heard somewhere that the producers said something about a big detail that we missed in this episode, could this be refering to the shoes, and if so what are their importance?--ConnerXcountry57 18:30, 9 May 2007 (PDT)
A lot of people have mentioned that Jack's father wears white tennis shoes when he appears on the island. The producers have confirmed that Jack's dad is 100% dead and any vision of him is just that, a vision, but I think the shoes could possibly be some sort of reference toward Christian -- forshadowing or whatnot. --Jeff 17:34, 5 February 2008 (PST)
mark on the Cockpit section of the plane
there is a black mark on the side of this part of the plane. Is this just a random mark? this is the link too the picture http://lostpedia.com/images/f/f6/Frontplane.jpg. Any thoughts?--ConnerXcountry57 18:32, 9 May 2007 (PDT)
It appears to be smoke damage, although it's pointing in the opposite direction the plane was traveling in, considering the nose cone is lodged in the tree canopy... -- Blackannis 16:58, 31 May 2007 (PDT)
Reference to The Godfather
I have been thinking that when Locke puts the orange in his mouth and smiles at Kate, they are referencing the Godfather, the scene where Vito does the same thing to scare his grandson. Just a though...
Jack Acting Weird
In The Pilot Episode After The Airplane pilot is Taken By The Monster When Kate Is Looking For Jack And He Emerges From The Jungle Does He Seem to Act Strange To Anyone Else?--Evil_since_81 09:11, 20 September 2007 (PDT)
Yeah, why does Jack disappear for a few minutes after helping Charlie? Neither Kate nor Charlie know where he is during this few minutes, then Jack emerges from the jungle as they find the pilot's body in the tree.--Swatki 23:40, 17 May 2009 (UTC)
Jack's Story
When Jack was telling Kate his "dealing with fear" story he mentions accidentally ripping the dural sac of a patient. Kate then says, "If that had been me, I think I would have run for the door." Then Jack says, "No, I don't think that's true. You're not running now." Not that this is an important plot point or anything but was he saying that he ripped his dural sac or just commending Kate for not being afraid? Here's the transcript if you don't understand what I'm referring to. Scroll down just past where Sayid is asking for Charlie's help.  Liveweak  20:02, 3 January 2008 (PST)
I think he was just commending Kate. --Messeis 06:45, 7 May 2008 (PDT)
Gary Troup
Wasn't the line from the producers about the "Bad Twin" author being the guy sucked into the engine supposed to be a joke and not canon? I don't recall any further evidence supporting this, but if someone can prove me wrong, by all means, please do. --Jeff 17:31, 5 February 2008 (PST)
Have a look here: Gary_Troup#Trivia. There are multiple sources so I think it's safe to consider it canon. There's every chance the idea started as a joke, and the TPTB then decided to make it stick. And if you've read Bad Twin, being sucked through a turbine was the least he deserved!--

TechNic

|

talk

|

conts 18:38, 11 March 2008 (PDT)

Those are all instances of the perpetuation of an inside joke amongst the show's creative staff. I think it's worth mentioning all these things on the Gary Troup page, but the only support for Gary Troup as a canon character is his single reference on the show proper--a name on a title page of a manuscript. Robert K S (talk) 03:21, 12 March 2008 (PDT)
Seth Norris
The pilot is now listed as Seth Norris in the guest star box, but we don't learn his name until Season 4. Shouldn't it stay "the pilot" for now? After all, the synopsis' for the Season 2 episodes list Ben as "Henry Gale" or "the prisoner" because we didn't know his real name yet. --Jeff 18:27, 11 March 2008 (PDT)
More Foreshadowing
Boone's search for the pen foreshadows his own death later in the season (in 'Do No Harm'): Boone's lung collapses and Jack has to puncture his lung with a ?knitting needle. Should this be added to the Foreshadowing section? —The preceding unsigned comment was added by Midnightgir1 (talk • contribs) 2008-05-06T11:41:37.
Vodka bottle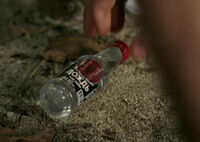 There are symbols/writing that is not English on the bottle of vodka from Jack's pocket in the very first episode of LOST. I can't find info on this anywhere on the site, so I thought I'd post it. Any translations would be great!--Orkidchild 07:54, 30 May 2008 (PDT)
The brand is fake. --Sorhed 15:32, 31 May 2008 (PDT)
Charlie's Drug Habit
Did anyone else notice that Charlie's drug habit saved Jack's life? Jack was about to get out of his seat and presumeable go the the bathroom or something. If he was in the bathroom he could have possible not made it out of the bathroom and died. In which case, Rose would have died, as Jack would not have been there to save her. Boone could have possibly drowned trying to save Joanna if Jack hadn't been there. The man in the Tourniquet probably would have died. Charlie bumping into him prevented him from going, saving his life and many others.. Yeah i know its a far stretch but hey. -- LostCloverfield42  Talk  22:27, 10 July 2008 (PDT)
Excellent point!!!! --stu4488 18:57, May 30, 2012 (UTC)
Post-Crash Engines
In first seeing the pilot episode, the fact that one of the turbines was still turning on and off initially struck me as odd. In seeing /Exposé/ (midway through Season Three), I noticed that some circular part was still throwing off sparks after the turbine stopped. For those in the know about such things, would they really still be running? Would the batteries be still connected to a detached engine and all? I'm wondering if it's not so much a continuity problem as a sign of the Pearl-associated magnetic field still making things act oddly. YoungWilliam 01:31, 28 November 2008 (PST)
That's an interesting theory, but I think that it was just done for dramatic effect. --

 Sam McPherson 

 T 

 C 

 E 

08:14, 28 November 2008 (PST)
Jet engines don't need batteries or any electric power for ignition at all once they're running. They're like blowtorches in that the burning fuel/air mix ignites the fuel/air right behind it. They do need fuel pumped to them though. So an engine would need its fuel pump still attached and enough of the wing still attached to have at least one intact fuel tank available.--Sdaniels7114 04:42, 8 May 2009 (UTC)
First Mention of the Island
This has been bugging me for a while: how did everyone immediately conclude that they had crash-landed on an Island? Did the pilot tell them? Starting out from being on the ground at the beach, it would be impossible to know that they were on an island. So from where did this information first arise? Are there continuity errors or anachronisms here?Japhy Ryder 05:50, 26 March 2009 (UTC)
As far as I can tell, the pilot doesn't actually tell them it's an island, but he says he was trying to get to Fiji. There's almost nothing out there but water.--

Jim in Georgia 

Contribs 

Talk

13:24, 26 March 2009 (UTC)
Agreed, but they look one way from the shore, and there's nothing but water, and then turn around, and there's nothing but a massive landscape with no end in sight. I'm really curious about this now because I think it's only the Others that actually can confirm to the 815 survivors that they are on an island and not just merely a remote beach on an unknown land. It is a huge assumption that they are on an island for any one of them to make, and as no one actually follows the coastline all the way around or can see the Island from an aerial perspective until the helicopter seems really problematic narrative-wise.--Japhy Ryder 07:06, 29 March 2009 (UTC)
Nations have a tendency to patrol their borders, physically or electronically. On the first day, Shannon said someone would be there to rescue the Survivors in a few hours(?). A sense of isolation turns into an opinion about an island. To get back to the original question, I don't think its a continuity error or anachronism. We're dealing with what people felt and said. There's no beachcomber saying, "Welcome to my island home." The geography gets verified by Rousseau in [[Ep1x09|.}}--

Jim in Georgia 

Contribs 

Talk

18:30, 29 March 2009 (UTC)
The only land masses between Australia and North America are islands. Mainland Asia is really far from any of that. Calling where they were an island is a pretty safe assumption to make. No anachronism. --Shmibar 02:09, September 25, 2009 (UTC)