Real World article
(written from a Production point of view)
Peter Ruocco played the role of Agent Freedman in "Every Man for Himself".
Background
Theatre actor and director based in Hawaii.
Most recently played the Wedding Planner in You, Me and Dupree.
External links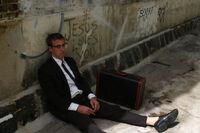 Peter Ruocco in the theatre production of Thom Pain
Ad blocker interference detected!
Wikia is a free-to-use site that makes money from advertising. We have a modified experience for viewers using ad blockers

Wikia is not accessible if you've made further modifications. Remove the custom ad blocker rule(s) and the page will load as expected.