November 3rd, 2006
Running Length: 8:31
Video Podcast Description: Executive Producers Damon Lindelof and Carlton Cuse recount a "Lostian" tale of their own crossover ? with reenactments! A special promo of the fall season finale, "I Do" (11/8/06) follows.
Video podcast features a story that is related both to Cuse and Lindelof, and told to counter those who claim connections in the show are too unlikely. First, Cuse tells a story that some time ago Jeffrey Baum, a friend of Cuse, befriended George Lucas during Baum's work with Indiana Jones and the Last Crusade. Baum and Cuse try to get free tickets to Disneyland, assuming that since they technically work for Disney they might have a chance, but they fail. However, Lucas invites Baum to his Disneyland trip with family, where Lucas is greeted as a VIP, and given special access to all rides.
Then Lindelof starts, saying that when he was 14 years old, he finally convinced his father to go to Los Angeles. At the end of the day, at Tony Roma's, Lucas crosses in front of the line in which Lindelof and his father were waiting. Lindelof and his father, big Star Wars fans, fail to take a picture of Lucas. The next day they go to Disneyland and while waiting in line for the Star Jets attraction, Lucas again comes in, crosses the line and enters the ride. This time Lindelof decides to leave the line and go to Star Jets' exit so he can take a picture with Lucas, albeit not next to each other ("like one of the paparazzi, though I didn't use that word since I was 14") but still in the same frame.
The connection is that this Disneyland visit of Lucas' was the one that he invited Jeffrey Baum to, and incidentally Baum is in the very picture that Lindelof took back in 1987.
At the end Lindelof says it would be cool if the guy in the background was Cuse himself, and asserts that if it was "Lost" then that guy would be Cuse.
There are black and white comedic flashbacks during the podcast, parodying young Lindelof and young Cuse (portrayed by Magenia Tovah and Jeff Fordis respectively).
External links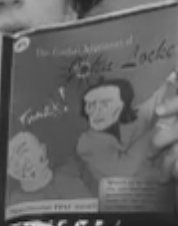 Ad blocker interference detected!
Wikia is a free-to-use site that makes money from advertising. We have a modified experience for viewers using ad blockers

Wikia is not accessible if you've made further modifications. Remove the custom ad blocker rule(s) and the page will load as expected.