Niv Rabino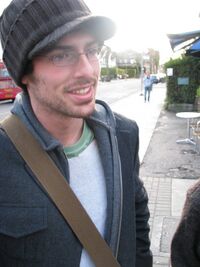 Niv Rabino
| | |
| --- | --- |
| Name | Niv Rabino |
| Date of birth | March 26, 1986 (age 31) |
| Place of birth | Israel |
| Character on Lost | Elmer |
| Official Website | |
| IMDb | IMDb profile |
Niv Rabino was a member of the Dharma Initiative background cast, whose character has been identified by a wardrobe nametag as "Elmer".
Rabino is a young Israeli who worked in a clothing store in Honolulu. A stylist of 'Lost' happened to walk into the shop and suggested an audition as an extra. After he passed, Revino started filming for four months on the Hawaii set. His friend, Danny Gilad, is a member of the Others background cast. [1]
Ad blocker interference detected!
Wikia is a free-to-use site that makes money from advertising. We have a modified experience for viewers using ad blockers

Wikia is not accessible if you've made further modifications. Remove the custom ad blocker rule(s) and the page will load as expected.