Real World article
(written from a Production point of view)

Michelle Forbes (born January 8, 1965 in Austin, Texas) is an American actress. She played the role of Karen Decker in "There's No Place Like Home, Part 1"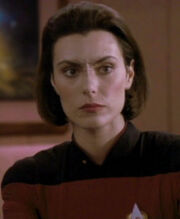 Forbes as Ensign Ro Laren in Star Trek: The Next Generation
Other roles
True Blood
Walking the Dead
In Treatment
Battlestar Galactica: Razor
Boston Legal
Prison Break
Battlestar Galactica
24
Perfume
Seinfeld
Star Trek: The Next Generation (Bajoran ensign Ro Laren)
Guiding Light
Swimming with Sharks
John Carpenter's Escape From L.A.
Ad blocker interference detected!
Wikia is a free-to-use site that makes money from advertising. We have a modified experience for viewers using ad blockers

Wikia is not accessible if you've made further modifications. Remove the custom ad blocker rule(s) and the page will load as expected.