"Perez" redirects here. For the character of Dr. Perez from the Lost Experience, see Project Sumo
Real World article
(written from a Production point of view)
Mario Perez
Date of Birth
Unknown
 
Origin
Unknown
 
Job(s)
Still Photographer
 
IMDb profile
Mario Perez was the official still photographer on Lost's production crew. His photographs are taken on set during filming, and are seen in ABC's promotional images on ABCmedianet.com, as well as in Lost: The Official Magazine. The still photographer uses a device called a "Blimp"[1] [2], depicted in the photo at right, to dampen the camera's click during active filming. He can be seen in the background, holding a camera, of one of Charlie's flashbacks in "The Moth" as he enters the dressing room after a concert.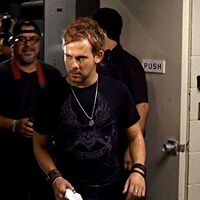 Perez (left) appears as an extra in "

The Moth

".
Background
Perez is originally from California but now lives on the Hawaiian island of Kauai [3]
Was the still photographer for Baywatch Hawaii [4]
External links
Ad blocker interference detected!
Wikia is a free-to-use site that makes money from advertising. We have a modified experience for viewers using ad blockers

Wikia is not accessible if you've made further modifications. Remove the custom ad blocker rule(s) and the page will load as expected.