Home
Talk

2k
7,316pages on
this wiki

Featured Article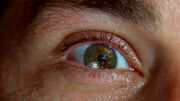 "Pilot, Part 1" is the first of the two-part pilot episode of Lost. It was originally broadcast on September 22, 2004, and "Pilot, Part 2" aired the following week. The two parts re-aired together on October 2, 2004. Jack Shephard, a doctor from Los Angeles, finds himself one of forty-eight survivors of a plane crash on a mysterious island. With the help of other survivors, he begins to treat the injured and attempts to find the cockpit of the plane in the hope of contacting civilization.
The episode establishes the show's use of flashbacks to show characters' lives before arriving on the Island. The one flashback in this episode depicts Jack's view of events on the plane just prior to the crash. (Read more...)

Quote of the Day
"

SAWYER: Yeah? How many you got? You're just not looking at the big picture, Doc.
You're still back in civilization.
JACK: Yeah? And where are you?
SAWYER: Me? I'm in the wild.
-"Tabula Rasa"

"

Today in Lost History
2004
Sawyer shows his letter to Kate
Jack loses his temper when he thinks Sawyer has stolen Shannon's inhalers.
Check back daily for more Today in Lost History or view the Lost Timeline

Latest Blog Posts