Home
Talk

2k
7,314pages on
this wiki

Featured Article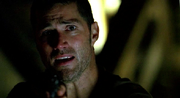 "Man of Science, Man of Faith" is the Season 2 premiere of Lost, and the twenty-sixth produced hour of the series as a whole. With the hatch now open, Kate and Locke ignore Jack's warnings and venture down the shaft without him.
"Man of Science, Man of Faith", among all episodes of Lost, was the most-watched during its initial airing. (Read more...)

Quote of the Day
"

DESMOND: 3 days before you came down here, before we met, I heard a banging on the Hatch door, shouting. But it was you, John, wasn't it? You said there isn't any purpose—there's no such thing as fate. But you saved my life, brother, so that I could save yours.
-"Live Together, Die Alone, Part 1"

"

Today in Lost History
1967
Adewale Akinnuoye-Agbaje is born.
1975
Rodrigo Santoro is born.
Check back daily for more Today in Lost History or view the Lost Timeline

Latest Blog Posts