Parody Alert!
This article's subject matter is parodical and non-canon in nature (but distinct from hoax and serious fanon material)
This material is generally fan-created, but occasionally from official or commercial sources.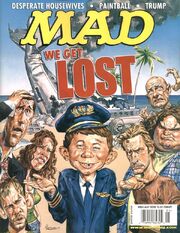 MAD Magazine dedicated its cover and a complete five page feature to Lost in its May 2005 issue. Tom Richmond is credited as the artist, and Dick DeBartolo as the writer.
Selected highlights
References to the first encounter with a polar bear, Locke's former disability, Claire's flashback, the repair of the transceiver, Jack seeing his dead father, Kate stitching Jack's back, Hurley's census, Jack's flashback of his father operating while drunk, Sayid being tortured by the french woman, and the encounter with Ethan.
Spoofs: The Little Mermaid, Gilligan's Island, Fantasy Island, Castaway, Don Martin's strips and Yogi Bear.
J.J. Abrams is mentioned.
A new character is introduced: a stewardess, who is in charge of introducing the flashbacks.
See also
Caricatures
Ad blocker interference detected!
Wikia is a free-to-use site that makes money from advertising. We have a modified experience for viewers using ad blockers

Wikia is not accessible if you've made further modifications. Remove the custom ad blocker rule(s) and the page will load as expected.