Parody Alert!
This article's subject matter is parodical and non-canon in nature (but distinct from hoax and serious fanon material)
This material is generally fan-created, but occasionally from official or commercial sources.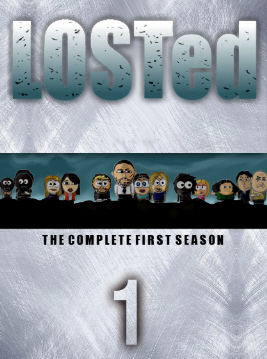 LOSTed promotional art.
LOSTed is a fan-made parody animation about Lost. The creators are Guy Sahaf and Chen Feller.
As of February 2007, there have been four episodes released: "...And FOUNDed", "Everybody Hates Henry", "Tabula Rousseau", and "Waltabout". The official site lost-interactive.com has shut down, but released episodes are still available on YouTube.
External links
The episodes:
Videos
Waltabout [1x04]
Ad blocker interference detected!
Wikia is a free-to-use site that makes money from advertising. We have a modified experience for viewers using ad blockers

Wikia is not accessible if you've made further modifications. Remove the custom ad blocker rule(s) and the page will load as expected.