Fanon
(Fan created content. Distinct from hoaxes and parodies)
Date Launched
May 16th, 2006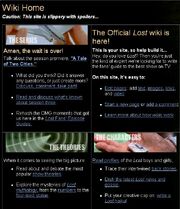 The Lost Wiki was the former official wiki of Lost, powered by Wetpaint's proprietry wiki software.
The site was originally a fan site created on the Wetpaint.com system, which was first created on May 16 2006. On October 2nd 2006, ABC took the site under its wing. On October 15, 2007, ABC's contract with the website expired, and the wiki once again became "Unofficial".
As of September 26, 2008, Lost Wiki has over 710 pages, over 3170 comments, and over 2,800 users.