LAN 101
Foreign language for beginners
 
Professor(s)
Eunhye Kim
Muriel Szkocki
 
Semester
1
# of Classes
2
 
Website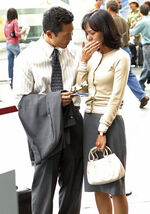 Sun and Jin, two Korean speaking characters.
This course offers two introductory-level classes that will help prepare the student for any situation in everyday life. Professors break down 15 key phrases through the listen-and-repeat method of learning.

Trivia
Both languages taught in this class are spoken by the character Charlotte Lewis.