Parody Alert!
This article's subject matter is parodical and non-canon in nature (but distinct from hoax and serious fanon material)
This material is generally fan-created, but occasionally from official or commercial sources.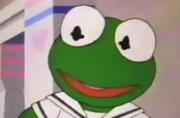 LOST Babies
is a series by independent filmmaker
David Goodberg
of
parodical
remixes of
Muppet Babies
cartoons combined with audio from
Lost
. The first three episodes were uploaded online on March 21, 2009 and immediately drew interest and fans. The episode entitled "Let The Fear In" was featured on Buzz Feed
[1]
, VideoGum
[2]
, Flabber
[3]
, Entertainment Weekly
[4]
, and The Daily Tube
[5]
.
On July 25, 2009, LOST Babies was featured during the LOST panel at Comic Con. Carlton Cuse and Damon Lindelof opened the panel by expressing their appreciation for the fans and wanting to start with a montage of some of their favorite fan-made parodies of LOST. In this montage, Episode 5 titled 'Relations" was featured and showed Baby Jack confronting Baby Charlie about his drug addiction.[6]
Characters
Kermit = Jack Shephard
Piggy = Kate Austen
Fozzie = Hugo 'Hurley' Reyes
Animal = James 'Sawyer' Ford
Scooter = Jin Kwon
Skeeter = Sun Kwon
Rowlf = Charlie Pace
Gonzo = Sayid Jarrah
Dr. Bunsen Honeydew = John Locke
Janice = Juliet Burke
Bean Bunny = Ben Linus
External links
References
Ad blocker interference detected!
Wikia is a free-to-use site that makes money from advertising. We have a modified experience for viewers using ad blockers

Wikia is not accessible if you've made further modifications. Remove the custom ad blocker rule(s) and the page will load as expected.