Ad blocker interference detected!
Wikia is a free-to-use site that makes money from advertising. We have a modified experience for viewers using ad blockers

Wikia is not accessible if you've made further modifications. Remove the custom ad blocker rule(s) and the page will load as expected.

The Lost (Original Television Soundtrack) was released on March 21 2006, by the record label Varèse Sarabande. It includes full length versions of the themes heard on the show during the first season. Season 1's disc artwork features the jungle. At rear, Shannon is sunbathing, and Boone stands nearby, with the fuselage wreckage in the background.
A Note from the Producers
"

During the nine days we scurried to cut the LOST pilot, we had to put in temporary music before presenting the project to the studio and network. Bernard Herrmann, Ennio Morricone, Hans Zimmer, Thomas Newman, James Horner, Vangelis, John Carpenter, and half a dozen other composers unknowingly lent their brilliant music for the first test screening of the pilot - which led to its "pick-up" by ABC.

Unfortunately, as is often the case with temp music, many network executives had already grown to love the music - which left Michael Giacchino with the unenviable task of writing a score to replace some incredible music by some of Hollywood's leading composers.

Immediately, Michael dismissed the existing music and set out to create his own vision for the show. Instead of using music to simply enhance the scenes, Michael's score gave life to the characters. We no longer watched Jack walk through the debris of the plane wreck or Jack, Kate and Charlie flee from the cockpit - we now felt their grief, their angst, and their horror. From the pilot and on to the series, Michael used his own voice and passion to give LOST a sound all its own.

Hopefully, this collection will remind you of our characters' journeys through their first season on the island. For us, we finally have one CD to meet all our future temp music needs - at least until Michael releases his next score.

"

—J.J. Abrams, Damon Lindelof, Bryan Burk, Jack Bender, Carlton Cuse
Track list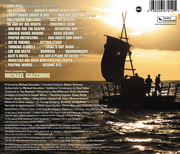 Back cover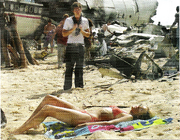 Image behind the disc tray
Track descriptions
Album credits
Produced by Michael Giacchino
Executive Producer: Robert Townson
Orchestration by Michael Giacchino
Additional Orchestration by Chad Seiter
Conducted by Tim Simonec
Performed by The Hollywood Studio Orchestra
Orchestra Contracted by Reggie Wilson
Recording Engineer: Dan Wallin
Copyist: Booker White
Music Editors: Stephen M. Davis, Michael Andreas
Mastered by Erick Labson
CD Package Design by Matthew Joseph Peak
Recorded at Capitol Records, O'Henry Sound Studios, Warner Bros. Clint Eastwood Scoring Stage
The Hollywood Studio Symphony
Violin
Jim Sitterly (concert master)
John Wittenberg
Kenneth Yerke
Robert Brosseau
Rebecca Bunnell
Susan Chatman
Ron Clark
Charles Everett
Armen Garabedian
Berj Garabedian
Terence Glenny
Harris Goldman
Galina Golovin
Alan Grunfeld
Steven Holtman
Norman Hughes
Peter Kent
Ezra Kliger
Razdan Kuyumjian
Robert Matsuda
Alyssa Park
Vladimir Polimatidi
Debra Price
Mark Robertson
Shalini Vijayan
Shari Zippert
Viola
Darrin McCann
Karie Prescott
Maria Newman
Caroline Buckman
Alma Fernandez
Jorge Moraga
Andrew Picken
Shanti Randall
Richard Rintoul
Harry Shirinian
Evan Wilson
David Stenske
Jean Sudbury
Marda Todd
Robert Becker
Pamela Goldsmith
Cello
Larry Corbett
Suzie Katayama
Victor Lawrence
Daniel Smith
Stefanie Fife
Steven Richards
Richard Naill
Matthew Cooker
Miguel Martinez
Timothy Lauderer
Bass
David Stone
Karl Vincent
Norman Ludwin
Charles Nenneker
Trombone
Alexander Iles
Alan Kaplan
Charles Loper
Bruce Otto
Kenneth Kugler
Andrew Martin
William Booth
Bob McChesney
Bass Trombone
William Reichenbach
Craig Ware
Harp
Gayle Levant
Marcia Dickstein
Katie Kirkpatrick
Amy Shulman
Guitar
Carl Verheyen
Lorin Ellis Lathrop
Kevin Riepl
Percussion
Emil Radocchia
Alan Vavrin
Daniel Greco
Special thanks
"

Special Thanks to Damon Lindelof, Carlton Cuse, Ra'uf Glasgow, Cheryl Foliart, Chad Seiter, Samantha Thomas and Stephen Davis.

I'd also like to thank my team - without the help of the Disney music department, my conductor, contractors, copyists, music editors, and assistants I could not do this. Seriously, I COULD NOT do it.

To the players of the Hollywood Studio Symphony - whenever I am in your presence - the first word in my head is simply "WOW!".

A special thanks to Bryan Burk - who makes me feel as if I am in business with both a friend and a brother. His love of movie music is a shared enthusiasm that is a rare trait in today's producers.

And finally, a resounding thanks to my good friend, J.J. Abrams - you give me the freedom to be creative and to have fun with my work - there's no better gift.

And one last mention for the best family a guy could have - Jamie, Mick, Gracie and Griffith. One day you kids will watch this show and say - "so THAT's what daddy was doing up in his office all the time!"

"
Trivia
See also
External links