Lost: The Last Episodes (Original Television Soundtrack)
Talk

13
Share
Ad blocker interference detected!
Wikia is a free-to-use site that makes money from advertising. We have a modified experience for viewers using ad blockers

Wikia is not accessible if you've made further modifications. Remove the custom ad blocker rule(s) and the page will load as expected.
Released
October 11, 2010
Length
1:03:28 (Disc One)
1:18:23 (Disc Two)
Total Length = 2:21:51
Producer
Michael Giacchino

Lost: The Last Episodes (Original Television Soundtrack) was officially released on October 11, 2010. It is a two-disc album featuring over two hours of music and is limited to 5000 copies. [1] It is now available for purchase on iTunes. It covers the music of the show's final four episodes, with Disc 2 consisting entirely of music from the series finale.
A Note from the Producers
"

The end of LOST occurred, of course, on May 23, 2010 when the final episode of the series was broadcast, but for us, LOST ended several times before that. It ended once when we finished writing the final scene of the last script. It ended again when we flew to Hawaii and watched our director and so many members of our amazing cast shoot the culminating scenes of the finale in the church. It ended again when we raised glasses and toasted with the editors after locking the final cut of the show.

But the most profound ending of them all happened the day we went to the scoring stage to watch Michael Giacchino and his orchestra record the score for the finale. Anyone who was there that day will tell you what an incredible experience it was. Many of the professional studio musicians, who have all worked on hundereds of projects, said it was the most emotional day of their careers. For the finale, Michael wrote a score that took all the major themes he'd developed over the six years and wove them together in brand new ways. The picture played on screens above us, but the dialogue was muted. It was humbling to watch how powerfully the music told the story without a single word. As those themes were played that day one final time, there was not a dry eye in the house. In fact, the two of us had to leave the scoring stage itself and retreat to the control booth so our own sniffling didn't ruin Michael's work.

We strove for an ending of our series that was spiritually uplifting, and at the end we were the ones who were uplifted by the power and emotion of Michael's work. It was, for us, perfect. And as we listened to each and every cue, we knew our journey was over and our story was finally complete.

"
Track list
Disc One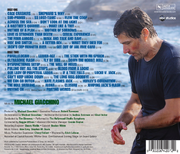 Back cover
Disc Two

Image used behind the disc tray
Album credits
Recorded at Capitol Records, Warner Bros. Clint Eastwood Scoring Stage, LA Sound Gallery
The Hollywood Studio Symphony
Violin
James Sitterly (Concertmaster)
Kenneth Yerke (Principal 2nd)
John Wittenberg
Norman Hughes
Terence Glenny
Armen Garabedian
Rebecca Bunnell
Ezra Kliger
Jean Sudbury
Shalini Vijayan
Shari Zippert
Peter Kent
Mark Robertson
Charles Everett
Robert Matsuda
Belinda Broughton
Laurence Greenfield
Haim Shtrum
Razdan Kuyumjian
Charles Bisharat
Galina Golovin
Vladimir Polimatidi
Debra Price
Alan Grunfeld
Barbra Porter
Alexander Shlifer
Ron Clark
Gina Kronstadt
Songa Lee
Cameron Patrick
Clayton Haslop
Tiffany Hu
Viola
Darrin McCann
Karie Prescott
David Stenske
Richard Rintoul
Harry Shirinian
Jorge Moraga
Marda Todd
Maria Newman
Evan Wilson
Caroline Buckman
Pamela Goldsmith
Alma Fernandez
Denyse Buffum
Karen Elaine
Miriam Mayer
Dan Neufeld
Miriam Granat
Jessica Van Velzen
Jeanie Lim
Robin Ross
Cello
Steven Richards
Victor Lawrence
Suzie Katayama
Richard Naill
Stefanie Fife
Vahe Hayrikyan
Matthew Cooker
Miguel Martinez
Giovanna Clayton
Rudolph Stein
String Bass
David Stone
Karl Vincent
Norman Ludwin
Edward Meares
Nico Abondolo
Charles Nenneker
Donald Ferrone
Timothy Emmons
Nicholas Rosen
Trombone
Alexander Iles
Alan Kaplan
Charles Loper
Steven Holtman
Kenneth Kugler
Bruce Otto
Lori Stuntz
Loren Marsteller
Bruce Fowler
Bass Trombone
William Reichenbach
Craig Ware
Harp
Gayle Levant
Eleanor Choate
Piano
Percussion
Emil. Radocchia
Daniel Greco
Bernard Dresel
Walter Rodriguez
Special thanks
"

I want to give a heartfelt thanks to all involved in the production of LOST, both in front of and behind the camera - your tireless and wonderful work proved an unforgettably creative experience for me. I would also like to thank all the fans for supporting the show for six fantastic seasons. I will miss LOST for years to come. Time to move on. Thank you!

"
Trivia
External links