Fanon
(Fan created content. Distinct from hoaxes and parodies)
LOSTsim

2006 - present

Official website

Facebook

Twitter

Youtube
LOSTsim is a fan-made project that was inspired by ABC's popular television series LOST. The project was started in 2006 with the aim of providing an accurate simulation of the DHARMA Initiative's computers. Users can experience what it would be like fulfilling the demanding responsibilities associated with the research stations. Currently the project consists of the Swan and Pearl stations, with the intention of releasing more stations in the future…
The domain http://www.lostsim.net was registered in 2012 and it became known as LOSTsim. Prior to that it was known as 'Push The Button' and only consisted of the Swan station computer.
In 2010 LOSTsim was demonstrated on Planet Lost, an exclusive bonus feature that is included with the The Complete Collection box set.
TheSWAN
This program is free to download and runs on Windows and Mac platforms.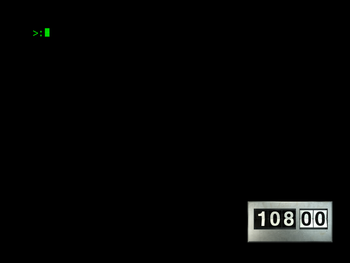 Features
108 minute timer countdown
Code entry with execute button
Lockdowns
System Failures
Failsafe
Esoteric Commands
Record Player
ThePEARL
This is an online log that creates an entry every time you push the button at TheSWAN. You must enroll with the Initiative before you can save your own personal log.
Features
Station logs
Observation form
Past versions
See also
Ad blocker interference detected!
Wikia is a free-to-use site that makes money from advertising. We have a modified experience for viewers using ad blockers

Wikia is not accessible if you've made further modifications. Remove the custom ad blocker rule(s) and the page will load as expected.