Katie James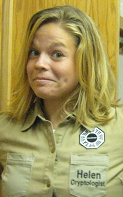 Katie James

Katie James played Helen, one of the background DHARMA Initiative members, a cryptologist credited as "Mom on Swing".
Katie posted a photo of herself wearing a DHARMA jumpsuit on her blog along with some spoilers, and she also expressed her dislike of Elizabeth Mitchell, who played Juliet Burke. This was met with negative comments on her blog post. The blog post disappeared not long after it became "famous", and some fans speculate that ABC had acted to remove the post.
Although she filmed a few scenes in "LaFleur", she does not appear in the episode's final cut, perhaps as a result of her blog post.
External links
Ad blocker interference detected!
Wikia is a free-to-use site that makes money from advertising. We have a modified experience for viewers using ad blockers

Wikia is not accessible if you've made further modifications. Remove the custom ad blocker rule(s) and the page will load as expected.