Real World article
(written from a Production point of view)

Jon Sakata played the part of the Man on beach in "The Other 48 Days" as well as a background survivor who gets thrown back due to an explosion in "Pilot, Part 1".
He has also performed numerous stunts for Lost as well.
Sakata appeares in Welcome to Oahu on the Lost: The Complete First Season (DVD) [1]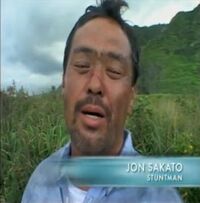 Jon Sakato performing a stunt as a background survivor in the pilot.
Filmography
Stunts