John Woodward
John Woodward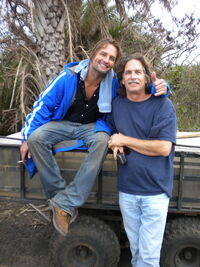 Josh and Woody on the set of Lost.

John Woodward aka Woody is a background actor who appeared at the Barracks, outside the cages, as the Others left Hydra Island, at the Ruins, on trip to the statue to see Jacob. He is one of the "Original Others" and Josh Holloway's stand-in.
John's acting credits include: Movies: Lost Boys, Sudden Impact, If I Could See You In Heaven, Forgetting Sarah Marshall, You May Not Kiss The Bride, Journey 2, Godzilla, Big Eyes. Television: Raven, Danger Island, Attention Please (Japanese T.V.), Lost, Hawaii Five-O, Off the Map, and Last Resort. Commercials include Sony, Panasonic and Fujitsu Computers for Japanese T.V.
He was a stand-up comedian with the comedy duo Mothballs and Vermin. Paul Bergman played Mothballs. Under the tutelage of Stanley Myron Handelman, they played all the comedy clubs in the Los Angeles area.
John has appeared in Japanese commercials for Fujitsu Computers, Sony and Panasonic. And he was the radio personality Captain Woody, of "Captain Woody's Super Highway Traffic Report".
Broadcasting 28 episodes .
See also
Ad blocker interference detected!
Wikia is a free-to-use site that makes money from advertising. We have a modified experience for viewers using ad blockers

Wikia is not accessible if you've made further modifications. Remove the custom ad blocker rule(s) and the page will load as expected.