Jean Simon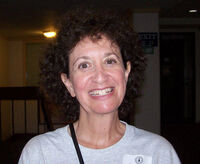 Jean Simon
Jean Simon was a background cast who worked on Lost since Season 1. She played many different background roles on Lost.
She played the role of the dead body whom Kate takes the shoes off in "Pilot, Part 1", a Motel maid of Corn Cob Motel in "Born to Run", a nurse who was with Adam Rutherford in "Man of Science, Man of Faith", and a teacher in Season 6.
External links
Ad blocker interference detected!
Wikia is a free-to-use site that makes money from advertising. We have a modified experience for viewers using ad blockers

Wikia is not accessible if you've made further modifications. Remove the custom ad blocker rule(s) and the page will load as expected.