In a place as filled with as many hidden traps, dangerous beasts and hostile enemies as the Island, there are bound to be some cuts and bruises. This page documents significant injuries and illnesses occurring both off and on the island.
Due to the island's healing properties, injuries that would normally take months to heal (such as gunshot wounds or broken limbs) can be mended in a matter of weeks. However, this effect can be erratic and unreliable, healing some wounds at random and others not at all; see healing properties for more information.
Fatal injuries are marked in bold. For a list of all deaths, see List of deaths. Note that this list is not exhaustive.
Before the crash
Head trauma from car accident with Kate who then punched and kicked him in the head in order to escape custody ("

What Kate Did

").
Severely beaten by Jin. Committed suicide by jumping from his hotel room ("

The Glass Ballerina

").
Broken spine resulting in paralysis, after being pushed out an eighth floor window by his father ("

The Man from Tallahassee

").
Severely injured after being hit by a car ("

Special

").
Unspecified cancer, resulting in sterility due to chemotherapy ("

Not in Portland

").
After the crash
Knocked unconscious by Ben hitting him in the head with his cane. Later, choked to death with a chain by Sawyer in the brig of the Black Rock ("

The Brig

").
Punched several times in the face by Kate and then fatally shot by Mikhail ("

Enter 77

").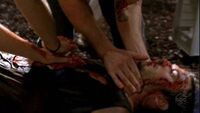 Jack and the survivors treating Boone's injuries. ("

Do No Harm

")
Facial injuries received in crash, resulting in permanent scars ("

Pilot, Part 1

").
Beaten and left unconscious by Sawyer in the bear cage. Fatally shot by Juliet seconds before he was going to shoot and kill Sawyer ("

Not in Portland

").
Broken leg from plane crash, which later became infected and killed him ("

The Other 48 Days

").
Chest wound from shrapnel received in plane crash ("

Pilot, Part 1

").
Gunshot wound to lung by Sawyer in a failed euthenasia attempt ("

Tabula Rasa

").
Successfully euthenised by Jack, method unknown ("

Tabula Rasa

").
Killed in a dynamite explosion caused by his own mishandling ("

Born to Run

").
Stabbed in the side by a tree branch while parachuting onto the Island. As her lung was filling with blood, it was punctured by Mikhail to release the blood ("

D.O.C.

").
Stabbed in the back with a knife thrown by Locke ("

Through the Looking Glass

").
Succumbed to knife wound ("

The Beginning of the End

").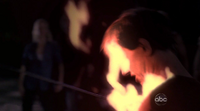 Frogurt after being shot by a flaming arrow. ("

The Lie

")
Killed by a flaming arrow shot by the Others ("

The Lie

").
Bitten by a Medusa spider, paralyzed and buried alive resulting in death by suffocation ("

Exposé

").
Bitten by a Medusa spider thrown onto him by Nikki, paralyzed and buried alive resulting in death by suffocation ("

Exposé

").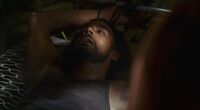 Sayid being interrogated by Danielle. ("

Solitary

")
Arms, fingers and neck broken by Ethan ("

Homecoming

").
Had a bag put over her head and knocked unconscious by Charlie ("

The Long Con

").
Chased by Man In Black and knocked unconcious by a tree, causing her to be unable to speak English for a short period ("

The Package

").
Off the Island
Scratches and broken arm from fight with Desmond Hume who also threw him in the water ("

This Place Is Death

").