Ad blocker interference detected!
Wikia is a free-to-use site that makes money from advertising. We have a modified experience for viewers using ad blockers

Wikia is not accessible if you've made further modifications. Remove the custom ad blocker rule(s) and the page will load as expected.
Artist
The Blind Boys of Alabama
"I Shall Not Walk Alone", is a song written by Ben Harper, that was covered by The Blind Boys of Alabama and used in "Confidence Man", as Sayid is walking alone on the beach, away from camp. Its use in the show is notable as being one of two instances where commercial (non-original) music was used in a non-diegetic way, meaning as part of the score and not heard by the characters (the other instance being "Slowly").
Lyrics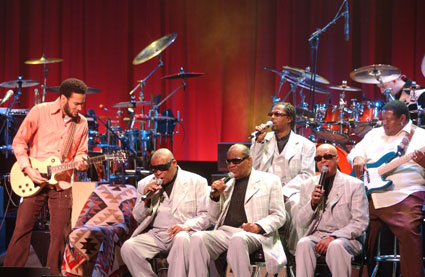 "

Battered and torn
Still I can see the light
Tattered and worn
But I must kneel to fight


Friend of mine
What can't you spare
I know sometimes
It gets cold in there


When my legs no longer carry
And the warm wind chills my bones
I just reach for mother Mary
And I shall not walk alone


Hope is alive
While we're apart
Only tears
Speak from my heart
Break the chains
That hold us down
And we shall be
Forever bound


And when I'm tired and weary
And a long, long way from home
I just reach for mother Mary
And I shall not walk alone


Beauty that
We left behind
How shall we
Forever find


Set aside
Our weight in sin
So that we
Can live again


When my legs no longer carry
And the warm wind chills my bones
I just reach for mother Mary
And I shall not walk alone
And I shall not walk alone
And I shall not walk alone
I shall not walk alone

"
External links