Owned by
An unknown passenger, currently by the
survivor

Golf clubs have been featured in Lost various times, mainly because of the golf course that Hurley constructed.
Appearances
Trivia
Hurley initially only found a couple of golf balls. After they were lost, the survivors improvised, using rocks, sea urchins, and kiwis as replacements.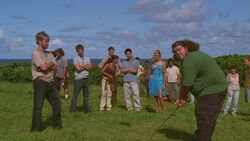 The survivors playing with the clubs
Ad blocker interference detected!
Wikia is a free-to-use site that makes money from advertising. We have a modified experience for viewers using ad blockers

Wikia is not accessible if you've made further modifications. Remove the custom ad blocker rule(s) and the page will load as expected.