Theories may be removed if ... 
Stated as questions or possibilities (avoid question marks, "Maybe", "I think", etc).
More appropriate for another article.
Illogical or previously disproven.
Proven by canon source, and moved to main article.
Speculative and lacking any evidence to support arguments.
Responding to another theory (use discussion page instead).
This does not include responses that can stand alone as its own theory.
Usage of an indented bullet does not imply the statement is a response.
See the Lostpedia theory policy for more details.
Members
Mike (Jan's husband) was a member of Geronimo Jackson.

Take a look at the guy standing in the back with the guitar. His hairstyle is identical to Mike's. Considering Eddie's knowledge of who would be there, the use of the shirt could've been intentional to get him in Mike's good graces even slightly.
When Mike notices Eddie wearing his father's shirt, he says something like "Your dad has excellent taste in music".

The blond woman is Karen DeGroot.
Horace Goodspeed and Olivia Goodspeed are members of the band. On the Magna Carta album cover, Horace is the one standing at the top with the red and white guitar and Olivia is the woman.

The Bass guitarist could be Mike (The Man Behind the Curtain).
The other guy is Walt.
The album was published in the 1970's because Charlie composed it while sitting on the well and the music went down the well and went back in time.
Grateful Dead Homage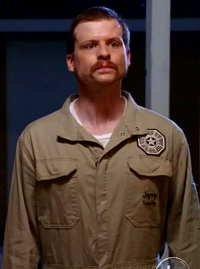 Band on the Island
The album Magna Carta was recorded on the island. This is supported through the band's disappearance at Woodstock in 1971 and the information provided by producers Damon Lindelof and Carlton Cuse saying "They just pressed one very obscure album in the mid to late '70s". (Official Lost Podcast/January 09, 2006).

The scenery on the album cover is from the Island.
In "He's Our You" one of the members (the one with the massive afro) can be seen serving breakfast in the DHARMA cafeteria.
Music
Ad blocker interference detected!
Wikia is a free-to-use site that makes money from advertising. We have a modified experience for viewers using ad blockers

Wikia is not accessible if you've made further modifications. Remove the custom ad blocker rule(s) and the page will load as expected.